2010.11.20 Saturday
Yoga Artsバリ島 瞑想サイレントリトリート(中級者以上向け)

バリ島 Yoga Arts
アドバンスプラクティショナーインテンシブ
サイレントリトリート
ーさらに深く自己探求をすすめる人へー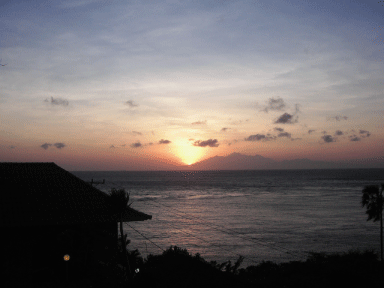 2011年9月3日〜9月11日(8泊9日)
¥178,500(ツインルームシェアのみ)
講師:Louisa Sear, Rose Boudin, Lucy Roberts
宿泊先: Bali Mandara Resort
*日本語サポートなし 英語のみ
*1年以上の瞑想およびアーサナ経験者のみ
(必要な人はご相談ください)
*一日8時間以上の瞑想、2時間のアーサナ
*てんちょうは以前参加経験がありますので
質問がある方はお問い合わせください。
2009年度の同じリトリートに関してのブログでの
報告記事はコチラ
お問い合わせおよびお申し込みをご希望の方は、
yoga★greenebooks.net (★を@に換えてください)
お申し込みメールのお返事に登録書類を添付して
お送りし、参加費申し込みと登録書類提出で
お席が確定いたします。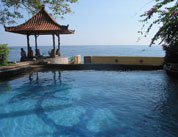 英語での詳細↓
Date: Saturday 3 September – Sunday 11 September 2011 (8 nights/7.5 days)
Location: Singaraja, North Bali (on the coast)
Venue: Bali mandala Resort >http://www.balimandala.com
Cost: 178,500yen
Includes: yoga tuition, twin share accommodation, all meals
Arrival/Departure: Arrive Saturday 3 September, depart Sunday 11 September
About The Advanced Practitioner Intensive: The Advanced Practitioner Intensive commences on the afternoon of Saturday 3 September 2011. The last class will be on the afternoon of Saturday 10 September, checking out on Sunday 11 September.
This retreat is purely practice and offers a deep inner inquiry, specifically for those that would like to take some time out in silence and delve more deeply into the nature of the self. This intensive is being held on the coast in the North of Bali at Singaraja. The venue, The Bali Mandala Resort has been chosen for it's peace and tranquility offering the perfect environment for a silent yoga retreat.
This retreat is a live- in retreat where the students observe silence except for teacher student participation. You will be surrounded by nature, in an environment perfect for dedicated Sadhana … one without wordly external distractions!
The intensive will obviously be challenging, but for dedicated teachers and experienced students of Yoga, this is an opportunity and a great gift to give to oneself … gaining freedom, insight and clarity.
"Particularly for teachers, I feel to teach, one needs to take on the commitment to themselves of self exploration and mindfulness. As much as we are all doing the best we can, our commitment lies in our ability to have the courage to put the self awareness of ourselves as a priority. Starting at this point we can then guide others to the best of our ability, under no illusions of grandeur, ego or our own agendas.
When we choose to teach, we have an added responsibility to give the best service that we can. Number one is preparation of the teaching vehicle in body, mind and emotions. We need to start with ourselves first, this is not selfish, it is getting the home in order. When we gain more understanding of oneself we are then, in more of a position to be of service.
Taking responsibility is something that a lot of us may not like to do at times, but no matter what our story is, we must get to a point of acceptance and self responsibility to be able to move on in our lives. It does not matter how much study of books one does, or even practice, but one must be able to live this truth day to day".
"My objective is that the experience gained and the tools learned on this Intensive will help the individual in the living of Yoga" … Louisa Sear
Advanced Practitioner Intensive Schedule
The Advanced Practitioner Intensive will have an intensive schedule of around 12 hours a day of classes aimed at individuals who are willing to dive deeper into themselves. This intensity is specifically designed to expedite ones understanding of the Self.
A sage once said that,"To tread the path of truth you must become courageous like lions". Self understanding and awakening comes with the ability to change, having the courage to do this. Change is constant, the changing does not stop at a certain age, change is a key factor to well being and an enlightened mind.
The practices of Yoga, strengthen, transform and allow us to to see. It does not matter what we see, but that we have the courage to accept what is seen, and move forward. Doing a retreat like this has a specific purpose, it is a catalyst for change, a time for renewal, a coming back home. The retreat has been specifically designed in its content to bring about deep contemplation and inquiry, creating the space needed for transformation.
The self inquiry and the philosophy modules of the course will enhance the inner discovery and ground a deeper understanding in the philosophy of life and self as well as the ability to implement it into our daily lives.
The teachers are as follows;
Rose Baudin:
Meditation, Pranayama, Ritual, Mantra, Agni Hotra (fire ceremony)
Rose Baudin has studied and practiced yoga for 30 years and has taught for 20. She met her mentor Swami Gauribala in Sri Lanka in 1971 and was initiated into the Parampara in 1984. During the 16 years she lived in India, she was instructed by masters in the various schools of yoga: Integral, Iyengar, Vini, & Astanga as well as extensive meditation experience under the guidance of S.N. Goenka (Vipassana), Zen Master Hogen-san Yamahata, (Soto), and Sayadaw U Janaka (Satipatthana Insight Meditation). Since 1986, Rose has been based in Australia teaching yoga classes & weekend meditation retreats, as well as instructing and lecturing at the Yoga Arts' International School for Yoga Teacher Training. She has been conducting yoga intensives, residential retreats and seminars herself internationally for the past 14 years. She was introduced to and taught the ritual of Agni Hotra by Dr. Robert Svoboda who instructed her in the way of his mentor, the Aghori Vimalananda.
Louisa Sear:
Meditation, Pranayama, Lead Asana
Louisa was introduced to yoga as a child by her mother. She practiced Integral yoga as a adolescent and a young teenager. At the age of 17 she was introduced to meditation and chanting by the Ananda yoga group and then to Iyengar yoga , asana and pranayama by Martin Jackson, the first person to bring Iyengar Yoga to Australia. At the age of 17, Louisa began her dedicated yoga practice. She began teaching at the age of 21 and started traveling regularly to India when she was 23. Here, as well as studying asana and pranayma, she also had a long time meditation teacher in north India. As well as her foundation in Iyengar asana, she practiced Astanga Yoga for 16 years. Since the beginning Louisa has dedicated her life to the practice and teaching of Yoga. She is passionate about turning people onto yoga, to find their true nature, freedom and love. In her teaching, she encourages the understanding and acceptance of life, finding the teacher within and acknowledging the God in all. Louisa has had a committed yoga practice for over 27 years.
Lucy Roberts:
Asana, Vinyasa, Techniques and Teaching Methodology
Lucy works on the Yoga Arts' Internationally accredited Yoga Teacher Trainings. She is a regular guest teacher on Sun & Moon Teacher Training Courses in Tokyo and teaches classes, workshops, and retreats internationally.
Lucy has practiced many styles of Yoga and studied with many different teachers over the last twelve years. Her longest and most revered teachers are life, nature and silence. Lucy's teaching style is fluid, feminine, intuitive and creative. She merges classical yoga asana with mudras and stance from the sacred Indian temple arts, and the natural spirallic movements of spontaneous free-style dance. Studying craniosacral bodywork has informed her teaching and practice, working from the inside out to find an inner spaciousness and ease and a meditative presence grounded in silence. She loves the non-verbal aspect of hands on adjustments where so much can be communicated from body-to-body, when there is sensitivity and clear intention.
Lucy's current passions are Odissi Dance, a very beautiful and devotional classical art from the temples of Orissa in East India, craniosacral bodywork, and everything else in between that brings wakefulness and joy. Born in Australia but home 'on the road', she currently lives between Byron Bay, Japan and India.