2011.03.18 Friday
7th Anniversary Dinner party!!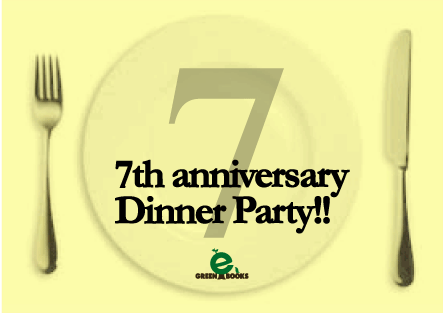 7th Anniversary Dinner party!!
Green e Booksもおかげさまでもう7歳!
異国の雰囲気あふれるレストランにて、
ちょっぴりリッチな気分でおいしいディナーを
ご機嫌な仲間達と一緒に楽しみましょう!
実はまだ一度もGreen e Booksには足を踏み入れたことがないという方も、
Green e Books常連さんも、ご近所さんも、みんなまとめて楽しくお食事しましょう♪
たくさんの皆さんにお会いできることを楽しみにしています!
会 場:フレンチレストラン  Le Bouchon ( ル・ブション ) 
      京都府京都市中京区寺町通二条榎木町71-1 グランデヴェラ 1F
      地下鉄東西線:京都市役所前下車徒歩4分
      市バス&京都バス:各系統京都市役所前
      下車徒歩3分ほど

日 程:5月14日(土)午後7時07分スタート! 

参加費:5000円 (フレンチブユッフェ・ドリンクのみ放題)
定 員:50名 / 事前に Green e Books まで予約をお願いします◎
ドレスコード:自分が一番魅力的に見える服装。
●お申し込み、お問い合わせはコチラまで●
info@greenebooks.net
電話: 075-751-5033
(火曜日水曜日は定休日)

7th Anniversary Dinner party!!
Thanks to your patronage, Green e Books is now 7 years old! For our seventh birthday, we want to do something a little more grown-up, so we're putting on an evening social event!
After seven years, Green e Books will sparkle in a new debut, and you'll all help us celebrate, right? This is also your chance to debut! If you've got clothes you only wear to wedding receptions, or a favorite party dress stuffed in the back of your closet; if you want to start a new career; if you think you're not good at socializing…. Sparkle along with us at your own fantastic debut!
We'll be renting out a restaurant overflowing with an exotic atmosphere, a little bit of a rich mood, very delicious dinners, for you to enjoy with your (our) friends.
All of you who've been kind enough to get involved with Green e Books so far possess a tremendous individuality. We're certain that on this night, you'll have wonderful new meetings with each other and make amazing new discoveries!
If you've never set foot inside Green e; if you're a regular customer; if you just happen to live in the neighborhood; let's all get together and have a fun time meeting each other! And, if you've learned something new from a workshop, or experienced some changes, please, let us what you have to say! We're looking forward to everyone meeting each other!
Location: Kyoto City, Nakagyo Ward. Restaurant "Le Bouchon"
Date and Time: May 14th (Saturday), 7:07~
Participation Fee: ¥5000 (includes French buffet and unlimited drinks)
Seats: 50 (please make your reservation in advance!)
Dress Code: Whatever makes you look the best!
JUGEMテーマ:ファッション